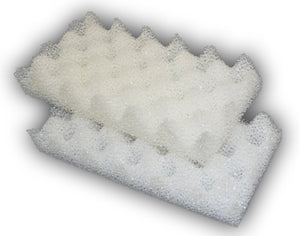 Fits Laguna PowerFlo Mechanical Underwater Filters (PT-500)

Fits Laguna PowerFlo Max Biological Underwater Filters (PT-505)

Each package contains two filters. Open the package and seperate the two filters before use.

Provides biological and mechanical filtration to your pond filter

Bulk packaged to save you money and protect our environment

Please note ** Filter sponge color has been updated from white to black.  The product is the same as before, only color has changed.
This 2 pack of premium grade foam media pads is designed for use with the Laguna PowerFlo Mechanical Underwater (PT-500) and Laguna PowerFlo Max Biological Underwater (PT-505) Filters. These foam media pads use its porous structure to provide biological and mechanical filtration, and will capture dirt and debris, helping to keep your pond environment clean and clear. Simply rinse in pond water every month and replace every 6 months or sooner, as you find necessary. Please note the two filters are fitted together in the package, and will appear as one rectangular sponge at first glance. Open the package and pull apart to reveal the two filters as pictured in this listing.