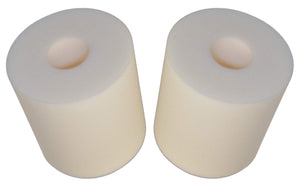 Fits: Electrolux, Aerus, Centralux, Air Vac, Hayden, Vent-A-Vac, M & S, Centralux, Broan Central Vacuum Cleaners

Replaces the old pleated paper insert filters and old foam style filter

Dimensions: 6" x 6"
Designed to fit the vacuum models listed below and more: Cetralux Broan Aerus Air Vac AV400, AV410, AV480, VM110, VM600, as well as some VM180 with foam filters, Hayden Vent-a-Vac Vacumaid. Filter is washable and replaces all other colored and ridged similar sized foam filters. For a taller 6 inch filter, order two and stack them together and cut to correct height. HEPA filtration system traps and seals-in 100% of dust mites, pollens, ragweed, microscopic particles, bacteria, mold, germs (as small as 0.1 micron), other allergy causing agents, and 99.9% of pet dander.